A Refugee Family Thanks Our Partner in Transnistria
Wednesday, September 14, 2022 by Amber Schafer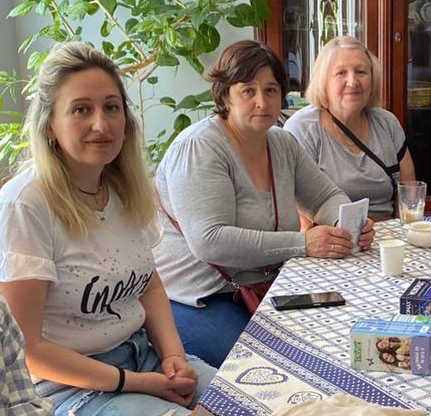 Hello Igor!
Thank you for your concern, we are doing well. We flew from Chisinau (Moldova) safely to Germany. Leaving Moldova, we took with us the most pleasant memories of Tiraspol (Transnistria), and about the beautiful people that fate brought together for us. You have done a lot of good for our family and continue to do a lot of good things for families like us.
We're in Germany now and getting used to the new place where we live. We are broken, but not destroyed. We yearn for our house and our loved ones who remain in Ukraine. Yet, you created an island of security and hope, an island of life where we could
recover and gain strength. With our heads held high, we continue our difficult path to the future.
You also gave us the opportunity to learn about God. We are progressing in our reflections on Him.
Thanks to you for your work and kindness. I believe that God will definitely reward you and your fellow workers.
Natasha
Natasha (pictured on the left) enjoys a meeting with women organized by Church Without Walls in Transnistria for refugees. In this letter, Natasha expresses her gratitude to Igor, our partner, and pastor of Church Without Walls. The church has worked to provide security and hope to refugee families like Natasha's in this time of physical and spiritual need.
---
---