Olena: This Is My Story!
Wednesday, July 27, 2022 by Amber Schafer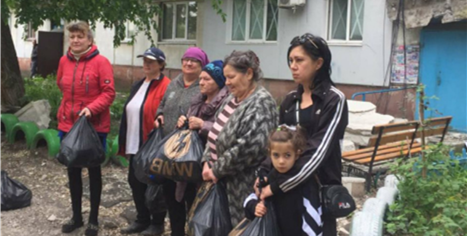 I am a mother of two teenage children. The day war broke out in Ukraine, I lost my job. For a month, we ate the supplies we had at home. In the end, we ran out of food and money; I was in despair.
On March 24, I was on my way to run errands when I saw a crowd of people and wondered what was happening. People told me that it was God's Design Church distributing food and clothes to everyone who needed help. There was a lot of activity and a large line of people.
Suddenly I heard someone speaking—it was a message from the Bible. I listened to the pastor and understood that what he was saying was right. Following the message, the church gave help to anyone who needed assistance.
From that day on, I have gone to that church. I have come to a sincere faith in God by listening to the teaching. Now I am going to Bible study groups and am studying the "Mother's Wisdom" course at the church. My children are going to the Bible school the church offers for teens, and they are interested and happy to be in church.
The people at the church have open hearts. I can confidently say that God brought me here. I feel His love and mercy, and I have a new purpose in life. I can help others find the way to eternal life by sharing my faith in Jesus, the Son of God, who died for us and rose again.
I am grateful to everyone who serves in that church and who donates support! We pray for everyone!
- Olena
---
---