Vlad Gets Help Navigating Life
Wednesday, August 4, 2021 by Amber Schafer

Vlad Gets Help Navigating Life Through Your Support of Adventure Camps
16-year-old Vlad is one of the teenagers whose life has been impacted by Extreme Adventure Camps. Vlad has grown-up in Transnistria without a father. As a young man navigating the stormy changes of the teen years, life is even more challenging without a parent's guidance. Now Vlad has a greater sense of worth and hope through the mentoring he received at Adventure Camps.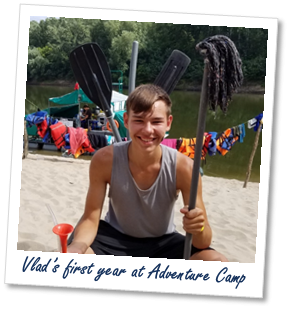 Last summer, Vlad agreed to join the Adventure Camp and rafting event. He enjoyed it so much that he asked to stay for the next trip…and the next. The experience was so positive that he participated in all four camps.
Sergey, the director of Adventure Camps, saw his growth and potential for serving God during the first couple camps and made Vlad the raft's cabin boy. He soon advanced from cabin boy to sailor and onto boatswain.
At the end of summer, Vlad participated every month in extreme hiking trips where Sergey and his team continued building a meaningful relationship with him. Through fireside evangelism, mentoring and discipleship, Vlad's beliefs and character have been shaped, increasing his knowledge of Christ. His interest in Jesus has led him to attend church.
This year, Vlad is one of six on the Adventure Camp support team. He is actively assisting with all five camps this summer.
Your support of the Adventure Camp program has made a difference in Vlad's life and is making a huge impact in the lives of approximately 50 teens in Transnistria this summer! Thank you!
---
---